Been pretty slow on the offshore grounds the last few days. No much going on. I had to stop and do some deep dropping on . We picked up a nice catch of tilefish to save the day.
On Wednesday we only got a dolphin fishing on the inshore grounds. We are going to go searching for new grounds.
On Friday, it was really hot especially since there was no breeze and a red hot sun all day. We picked up 2 tuna for the father and son teams first tuna ever.
7-22
Finally relief from the sun. Overcast skies offshore and some relief from the heat. We did well today with some yellowfins and a gaffer
7-23. We got out today. Most boats stayed home due to the weather. We left at 5AM and found a nice little school of tuna. We had a great morning and got home in time for lunch.
Numbers for 7-21
12:28:30 PM
7-21 Things are still slow. We picked up some yellowfins inshore chunking. There were some yellowfins caught offshore on the troll. The marlins are starting to show up.
.
Speed: 0.00 mph
Course: N/A
Lat: N 38°20'43.3500″
Lon: W 74°24'57.2148″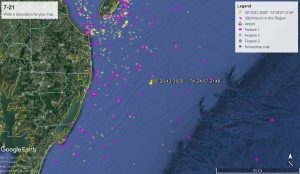 12:29:45 PM
Water temps very warm mostly 80 degrees. No wind and sunny hot weather hurting us right now. We catch 2 Tunas yesterday and have 2 today
Speed: 0.62 mph
Course: NE
Elevation: 1.05 ft.
Batt: Normal
Lat: N 38°20'43.4256″
Lon: W 74°24'57.1356″